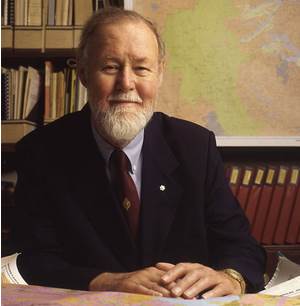 Roger Tomlinson, widely known as the 'father of GIS,' passed away in Mexico on February 7, 2014. Tomlinson created GIS (geographic information system); a collection of computer software which can view, analyse, manage and display geographic data. Learn more about GIS.
Being a visionary geographer had its challenges as Tomlinson was keen to share. He commented that loneliness was a major feature of his early work with GIS because nobody could understand his thoughts and vision. However since the 1960's, when the GIS was developed for use by the Canada Land Inventory, both he become widely known and respected for the contributions he made to the area of geography.
Tomlinson was the recipient of many awards for his work including the Order of Canada, the American Associations of Geographer's James R. Anderson Medal of Honour for Applied Geography, the Robert T. Aangeenbrug Distinguished Career Award, Esri's Lifetime Achievement Award and was a joint recipient of the National Geographic Bell Medal.
Read more information on Geospatial World about the life of Roger Tomlinson (will open in new window).
Back to news

Back to news